Perfect Love: Photo + Cinema is a Central Florida based photography & cinematography company which specializes in Wedding Cinema, New-Life Photography, & Lifestyle Photography. We can do it all. If you need a camera, we are here for you.
Every moment in life is worth capturing.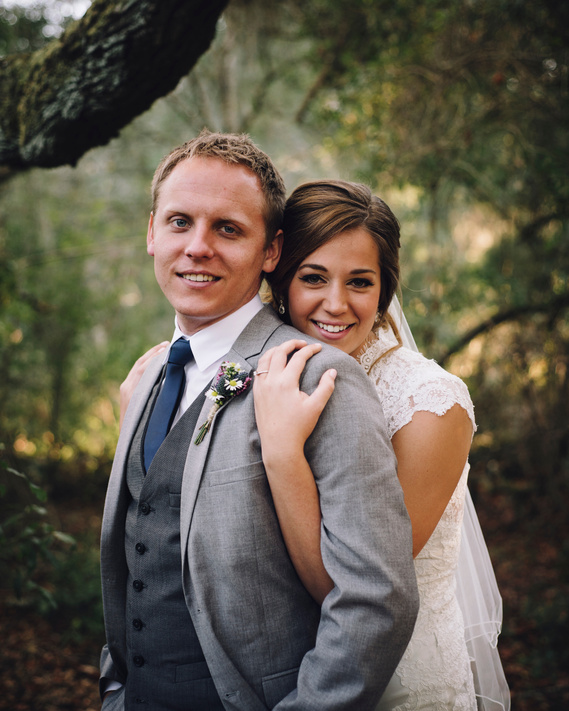 WHO WE ARE
We are a husband and wife team that loves: God, Photo + Cinema, Netflix, hanging out with friends and family, helping with our church youth group, food, puppies, and each other. We have been together since February 24th 2012 and married since December 13, 2014. (Yes! 12-13-14. I know you won't believe me, but we did not do that on purpose.) We make the perfect team because we compliment each other so well. I am bold and outgoing (embarrassing), while she is soft-spoken and more timid (sweeter).

I (Eric) graduated in 2010 from Full Sail University with my Bachelor's Degree in Film and immediately started my company "Eric Horner Films". I started with nothing and worked my way to where I am now. I have loved working in this industry thoroughly and have been blessed by many clients over the years. God has and always will provide for us what we need. In 2017, we decided to change names, what we offered, and our image. Thus, Perfect Love: Photo + Cinema was born.
ERIC HORNER'S HOBBIES
I am an open book. What you see is what you get. I don't have a lot of hobbies, but the hobbies I do have I am very passionate about. My hobbies are: League of Legends, Board Games, Movies, & Football
LEAGUE OF LEGENDS
This is as nerdy as I will get. I admit, it's a "nerdy" game. But WOW, is it fun. It's cutthroat, competitive, and an adrenaline rush. The community is toxic for sure, but even with that, it is by far the best computer/video game ever created and will be the only game I play for a long time. Oh, and it's free. I'm a youth leader at my church and play with my youth sometimes. We'll have 5 of us in my office all playing at the same time! It's a blast. I'm Gold V, in case you wondered. (NERD!) *cough
BOARD GAMES
I own a decent amount of boardgames. I like to have a variety so that whenever the mood strikes, I'll have the perfect game for the right number of players. I really enjoy socially interactive games and have started to love cooperative board games. The more players, the merrier. My favorite games are: Pictionary, Taboo, Legendary Encounters: Alien, Catan, Codenames, Monikers, Sushi Go Party, Mysterium, Guillotine, Poker, Runebound
MOVIES
Courtney & I own over 1,350 movies and I have seen over 1,100 of them. Courtney has seen maybe 250. I buy cheap used movies ($1.33 DVDs, $2 Blu-Rays). Movies are also my favorite gifts, cause then I can get the Blu-Ray, DVD, Digital Copy Combo New Release that I have been wanting. I watch about 3 movies a week and Courtney and I love having friends over for movie nights. The more, the merrier. My favorite movies (in alphabetical order) are: 3:10 To Yuma, Alien, The Book of Eli, Catch Me If You Can, The Dark Knight, Edge of Tomorrow, The Emperor's New Groove, Fight Club, Finding Nemo, Gladiator, Inception, The Incredibles, Looper, The Matrix, Monsters Inc, The Prestige, The Protector, The Raid: Redemption, The Revenant, Road to Perdition, Room, and You've Got Mail
FOOTBALL
First, I love playing football. Competitive flag football is my favorite, and in my prime I could break some ankles. I play with my youth at church, and it's always a blast. I also love Fantasy Football. I am in 4 leagues and I win at least 1 league every year. Last year I ended 1st, 2nd, 2nd, 9th. I also LOVE NFL football. Not like, LOVE. Not college, NFL. My favorite team is the Patriots, but I grew up with the 49ers. I really just love football. Good, sound, football, is my favorite. Every time Bill Belichick and Tom Brady lead another comeback. Every time Aaron Rogers gets a defense to jump offsides. Every time Peyton Manning audibled at the line. Every time Jason Witten and Larry Fitzgerald are the ultimate pictures of sportsmanship during and between snaps. Every time there is a revenge game or a juicy narrative that makes the game just a little bit extra. Every time I re-watch the "Butt Fumble" or Antonio Brown kick that punter in the face. Every year the Browns are the Browns, the Jets are the Jets, and the Jags are the Jags. (At the time of writing this, the Jags were the Jags... now they are the team that beats the Steelers.) Every time the underdog wins, or the favorite mops the floor the the opponent. Every time a running back plows over a defender. Every time a wide receiver drags the toes on a sideline catch. Every sack, fumble, interception, safety, touchdown, fourth down conversion, fourth down stop... every play of football is poetry in motion.
COURTNEY HORNER'S HOBBIES
Just kidding... but seriously...
She loves Netflix SO MUCH! Yes, we have our shows we watch together: Friends, The Office, New Girl, Stranger Things, Better Call Saul, Daredevil... But she has WAY MORE personal shows that I just don't understand: Gilmore Girls is the only one I know, but why do they have to talk so fast? In no world is EVERYONE talking that much, that quickly, and has that many snarky sarcastic things to say. Courtney has gotten a lot better I must say. She used to love: Pretty Little Liars, Revenge, Gossip Girl, and every other show that makes you want to punch everyone in the nose.
Courtney is learning to play the Ukulele and it's the cutest thing EVER! She absolutely LOVES babysitting and nannying cause she loves children. She loves youth group and spending time with the youth. Courtney loves Pinterest, Instagram, and Facebook. Her favorite movies are: Harry Potter, You've Got Mail, and Edge of Tomorrow